Adam Lyons' (AFC Adam London) Biography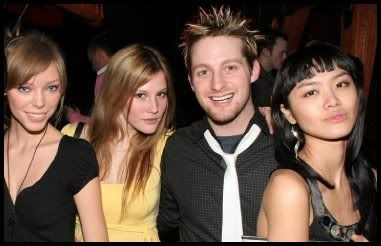 Name: Adam Lyons
Age: 29
Country: UK

Notable Achievements:
World Pua Summit 2009: Number 1 Ranking in the world
Thundercats Seduction List 2009: Number 1 ranking in the world
TSB Magazine 2009: Number 1 Dating Coach in the world
Seduction Tuition 2009: Number 1 ranking in the world
21 Convention 2009: Number 1 ranking in the world
Thundercats Seduction list 2008: Number 2 Ranking in the world
World Pua Summit 2008: Number 2 Ranking in the world
World Pua Summit 2007: Number 1 Ranking UK
Thelss.com 2007 to date: Number 1 Ranking UK
Thundercats Seduction List 2007: Number 3 Ranking Worldwide

Voted least likely to ever get a girlfriend in school by his classmates aged 15. Adam decided to try his best to improve his lovelife be trying to become more attractive, and understand the psychology of why we get attracted to others. For 11 years he went by largely unsuccesful falling into a couple of relationships and spending most of the time completely perplexed by the opposite sex.
In the Summer of 2006 one of his best friends handed him a copy of a book called "the game" by Neil Strauss, with the words; "Read this book, you'll take to it like a duck to water" Since then Adam has become known as one of the worlds leading authorities on attraction.
ENTER YOUR EMAIL BELOW
TO RECEIVE...


*FREE*
EBOOK ABOUT ATTRACTION

*FREE*
AUDIO BOOK ABOUT BUILDING A SOCIAL CIRCLE

*FREE*
ARTICLES AND ADVICE

Some of his core theories and articles that he has become well known for include;
Myframe: a core understanding of what attracts us to other people, and what causes them to be attracted to us in return. From this core knowledge and understanding you can use any method from any Pick Up Company, dating coach or even just invent your own, and still meet and attract the person of your dreams.
Metagame: the idea that meeting someone isn't just about the way you speak to them in the interaction but rather an understanding of the events and situations in the imediate vicinity to that interaction and potentially preceeding it. understanding and affecting these can be a core principle in attracting your ideal partner.
(see entourage game and pre-selection)
Entourage game: also known as extreme pre-selction, this concept involves building a life where you have a great deal of beautiful women around you at all times, so that you are perceived as being attractive and are therefore able to meet and attract others. A specific branch of Metagame.
The formula: (C-R)+Q+S = A This is a sequence of events that cause someone to become attracted to you, should they not initialy view you as attractive. Where;
C = Comfort
R = Rapport
Q = Qualification
S = Sexual Escalation
A = Attraction
The principles of attraction: Core qualities that cause people to become attracted to you before you even begin an interaction. This includes a full breakdown as to why a musician may be seen as attractive on stage, yet not so attractive when met in a bar, or other social situation.
Within 2 years Adam has been plucked from Obscurity to be recognised as one of the top 3 experts on seduction in the world. His notable acheivements include celebrities, models, and dancers. Adam has gone on taught some of the Uk's current experts in the field, and is growing to be known as the instructors instructor with a number of lead companies and competitors looking to Adam for advice on not only helping with their tougher students, but with their own life as well.
Adam has been featured in the Channel 4 documentary "the rules of seduction" as well asbeing interviewed or featured in, FHM, The News of the world, The Sun, The Independent, Kerrang, The Daily Star, Glamour Magazine, Maxim, Arena, The London Paper, The London Lite, The Star, Sport radio, and numerous others.
Adam was once regarded as unfashionable, chubby, lanky and geeky.
Within 2 months of being regarded the Number 1 in the Uk he has also managed to change his physical appearance to be equally receptive to the opposite sex.
Though he still actively plays dungeons and dragons and a whizz at computer games.
---
Notable Acheivements:
World Pua Summit 2007: Number 1 Ranking UK
Thelss.com 2007 to date: Number 1 Ranking UK
Thundercats Seduction List: Number 3 Ranking Worldwide
Other Work History:
Freud Communications: Public relations special projects PepsiCo/Nike
Gamezville Sky One: Public relations manager
Skill 2K: Public relations manager
Gametrak: Public relations manager
Ex-Calbre Props Public relations manager
Cloak and Dagger Props Public relations assistant and Prop technician
---
Testimonials from Industry Peers:
MrM - Love systems/Mystery method
"Adam's better than me in a number of situations. I've seen Adam do things I couldn't imagine doing, he's picked up some of the hottest girls I've ever seen in some of the most difficult circumstances. I've seen him go into 10 sets, 2 girls 8 guys and take the girl. He's just amazing."
---
David Wygant - Inspiration for the movie 'Hitch'
"Unlike Adam, most people in the community are either marketers who copied mysterys system and really don't have a clue or creepy pick up guys.
It's a shame we didn't get the chance to hang out we have a very similar real style and it would have been fun!!"
---
Vince Kelvin - Ross Jeffries (Speed seduction) Original Wingman
"Anyone around LA, i highly, HIGHLY want to encourage you to GO SEE ADAM at Johnny Wolf's Monthly Gathering!!!
Adam is truly awesome, and YES, he will be part of the head line for the Summit, GO SEE HIM. You probably have seen him on the Rules of Seduction UK Channel 4!"

---
Tung - naturalseducers
"AFC AdamLondon. The Man. The Legend.
I want to take the time now to recall my experience staying with AFC AdamLondon during mine and Crazy Serb's visit to London. Yes, that was months ago. Yes, that's how long I've been awww-struck for.
This guy is f£$%ing ridiculous. The first set I witness him open: he hooks, he dazzles, he solidly closes. I wonder to myself, "How long has THIS guy been in the game." thinking he's one of those lifer's that dedicate their whole being to this art.
AFC AdamLondon: I've been doing this stuff ever since I bought "The Game" mate!
Me: Oh cool, when was that?
AFC AdamLondon: 3 weeks ago.
You gotta be kidding me.
No he wasn't. And as I continued to witness him open and close successfully time after time, it was clear to me that he had something the majority of the Seduction Community lacks. Super Human Powers. I'm kidding of course. Which makes him that much more amazing.
I keenly noticed that he was able to open literally every set imaginable, EVERY TIME. How did he do it? Did he say the exact right thing to each girl he came across perfectly every time? Heavens no. He would not be of this world. Instead, he says anything he wants, and gets the same effect.
This is just the tip of the iceberg of what I witnessed during my stay with him. As for the rest of the SOS guys, all impressive to say the least, however I was WITH AFC AdamLondon everyday to warrant this memoir of the occasion. You'll be hard pressed to hear him ever boasting or bragging. I've tried many times to tell him to his face straight up how good I think he is. But as I've learned, you'll only get the response of a TRUE champion:
AFC AdamLondon: I can't be that good mate, I'm an AFC"

---
Thundercat - as featured in "The Game" by Neil Strauss
3rd in the World - AFC Adam Lyons
Okay, some of you have probably never heard of this guy before... but this is what makes the Top 10 list worth reading!
AFCAdam is a new face in the PUA scene, and let me tell you - I get the same feeling from this guy that I got from Neil Strauss when I first met him.
I'm convinced that AFCAdam is going to be the next big star in the pickup community.
This guy's game is RADICALLY different from anyone elses I've seen, which is incredibly refreshing to think that there's still innovation out there not based on the Mystery Method model.
Adam is a London-based pickup artist and the head of the London Lair. His entire game is based around Social Proof. He doesn't use any routines or openers or anything like that. In fact, his approach is very "AFC" like, hense the nick-name.
Adam likes to brag that is game all about having "no game." He creates and cultivates a lifestyle that attracts women to him like magnets.
And the fascinating thing is that he's not rich, or famous. He's also pretty average looking, so his success isn't based around being good looking either.
The women of his that I've seen are also of the quality that I've seen Mystery and Style get - which is to say the girls are GORGEOUS.
Talking with Adam feels like you're getting a crash course in Pick-Up from an entirely different perspective. He's funny, interesting, and more than willing to share his techniques with anyone who's interested in them.
Not only that, but Adam also runs the London Lair, and strives to teach others how to be as successful as he is. He regularly runs his own workshops, and I believe he just released his first ebook.
Long Story Short: AFCAdam is the newest, most exciting talent in the pick-up world I've come across in a long, long time, and I have a feeling 2008 might be his year to reach #1 status. We'll have to see.
---
Braddock - Love Systems/Mystery Method instructor
"I met AFC Adam in Dallas. He went out with us one night. He's fucking amazing!!! One of the best I've ever seen. Great teacher as well. He spoke one of the days of the bootcamp and it was great stuff. He's amazing to watch in field."
---
Students
Student testimonial: Cockstar
AFC Adam - U gotta admire the irony in calling himself AFC......he is the total opposite. Watching Adam at work is like watching Michelangelo paint the Sistine Chapel. The way he observes each situation and controls the frame of everything around him is pure genius. I shit you not when I say he has the potential to reach legendary status.
---
Student testimonial: Natedogg
Students of all levels attended the boot camp. Although aware of the community for so long I am a newbie really. I wanted to smash my reality and push my Kino to the limits which I did very successfully. Again read my boot camp field report for more details. The more advanced guys were either complaining about stalkers from the night before or getting so many numbers they couldn't remember what the girls looked like! One guy came specifically for day game and f-closes girl he meets at the cash point!!! Every student pushed themselves and achieved different success unique to them and there current development.
---
Student Testimonial: Newb
I loved it one of the best things I have ever done it was a bargain as well – the teaching was superb (he is 3ed in the world) you could really feel his passion and drive and he really did what you to get good. His style will work with another style (some peps there had done MM for a long time and they got a lot it incorporate with there style) meet some grate peps any questions just ask but more impotently if your are thinking about taking his boot camp just do it trust me.
---
Student Testimonial: Leo
Why I took the 1-2-1: I've been on the scene a little longer than most of the guys on this site but am still, in many many respects an AFC. But I have had a fair amount of success with woman and, having been on a couple of bootcamps, didnt feel that any of the "gurus" I had met had much more game than me. Theory yes; actual results no.
Last night Adam had almost 20 girls surrounding him. NONE were part of his warm Entourage game. He got all 20 COLD and IN UNDER AN HOUR. Now, I have seen this done before but not in that sort of time scale. But what was amazing was that Adam did it without offering the girls drinks; the guys I know who do this have to spend a shit load of money on alchohol (I've seen guys drop 1 or 2 grand a night doing this shit).
---
Student Testimonial: Drifter
Adam is very Charismatic, polished and with tight tight game.... he really is the REAL DEAL, I now have a mark to aim at! before yesterday, I had only a few stories....... light ambitions.... now i have DIRECTION and FOCUS. And was the money well spent? Well its expensive.... but after just 2 hours TUITION with a MPUA my game had moved on by 1-2 months in just 2 hours! And he sexually esculated me in front of thousands! Priceless! So book Adam, as I will do so again, and move your game on, this was fast forward....
---
Student Testimonial: Siren
Adam's so great, he's comes across as a natural and you can model yourself on him, Adam demonstrated stuff, I guess the main difference I saw between us was his playfulness and the way he touched women. Where I would touch women on their arm, or on their back whilst I spoke to them, he would have his arm around them, be pushing them away, spanking them, or basically having fun with them, but also being dominant with his body language. He's very playful and has lots of energy. In many ways he treats guys in a similar way that he treats women, in that he's very playful, he plays similar tricks on guys that he'll do to women, he'll have a good time with everyone. He's a very socialable guy who makes everybody interaction better. It feels like Adam puts his real personality on the line, i.e. he's shows himself without excuses. He also like helping guys out, and is the genuine article.
---
Student Testimonial: Infinite
First Session
First saw Adam demonstrate some of this social theory stuff. Within 3 mins he had befriended half of the queue in Starbucks. Just by discussing situational stuff about the coffee and hooking different people into the conversation. It also showed me how to handle social pressure, I would never be comfortable being the focus of attention from 10 strangers but have begun making efforts to improve in this area e.g. talking on the tube etc.
Then he opened a few sets whilst we sat down. The opening was very situational and easy. He was able to lead the conversations and comfort was instant in both sets. His approach to getting the phone numbers was also pretty effortless.
Second Session
Some amazing stuff, he would probably love to write this up himself as a FR but I'll go first…
(I had just day'2d a girl from Debenham's I had number closed from our first session Grin)
This is where the fun starts so we go into Selfridges and see an HB9 – I hesitate and she begins walking out of the store – Adam is off. I watched as she stopped, put her designer bags down and began laughing away. The number close was a given and he gamed her just like any other chick. He fired off a quick text – she was a model and it showed. Not an Eastern European airhead but an elegant English girl – my kinda girl. There's more however…
We walk to HMV, while texting Adam gets a strange look on his face and we do a U-turn – back to FCUK (next to Selfridges). Not sure what he is doing. He gazes into the front shop window and points at the large billboard posters….she was on those posters...it was the model he had just closed…inspirational stuff.
We then number close another couple of models in a lingerie store. I had fun looking through their portfolios. A double day-2 was arranged for this Friday with ease. I remember them saying how getting a boyfriend is difficult as guys are too scared to talk to them.

---
ENTER YOUR EMAIL BELOW
TO RECEIVE...


*FREE*
EBOOK ABOUT ATTRACTION

*FREE*
AUDIO BOOK ABOUT BUILDING A SOCIAL CIRCLE

*FREE*
ARTICLES AND ADVICE

We will never share your details with third parties. To view our detailed privacy policy, click here.
---